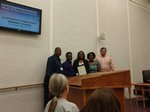 quincy mayor honor
On Tuesday, August 28th, the faculty and staff of Gadsden Elementary Magnet School were honored by the City of Quincy's Mayor and its Commissioners for their outstanding performance on the state's academic assessment test.
Mayor Angela Grant presented Principal, Ms. Allysun Davis, with a Proclamation that highlighted the school's ranking within the state, their ability to remain an 'A' for 12 years, and the state's designation of being recognized as a School of Excellence.
The Florida Department of Education identifies Schools of Excellence as learning institutions that earn enough points to be ranked at the 80th percentile, or higher, for two consecutive years.
Principal Davis thanked the Mayor and the Commissioners for the honor and attributed the school's success to strategic planning, the dedication of its staff members and the school's surrounding community for their continued support.